Vegetable Enchiladas: cheesy vegetarian enchiladas are stuffed with tons of vegetables and are wrapped in a flavorful five minute homemade enchilada sauce!
This vegetarian enchilada recipe is really easy to make and has loads of flavor that the whole family will love!
I like to stuff ours with bell peppers, corn, onion, black beans, spinach and a TON of cheese!
Then we whip up a super quick homemade enchilada sauce that is really easy and loaded with flavor.
Pop them into the oven and they are ready to go!
If you are looking to learn how to make homemade enchiladas, this is a great starter enchiladas recipe.
I have actually been making these healthy enchiladas for the past 5 years and we all love them — including the kids!
They are loaded with tons of vegetables and cheese…so how could they not be good?
I have really perfected the recipe and thought they really deserved to be shared again with new better pictures.
You can see the old post right here! Boy were those photos were epically bad!
MAKE YOUR OWN ENCHILADA SAUCE
For the best possible flavor, make your own homemade enchilada sauce. It makes a world of difference and only takes 7 minutes to whip up! You can absolutely use a store bought jar of enchilada sauce, but I have never found a store bought version that is as flavorful as my homemade version.
Another bonus to making your own enchilada sauce is that you can season it up to your taste. You can also make it spicy if you like spicy dishes! My husband loves when I add a chipotle pepper in adobo sauce to our homemade enchilada sauce and make spicy chipotle Mexican Casserole.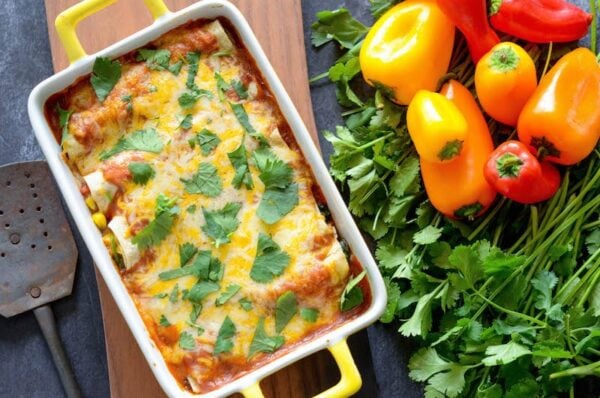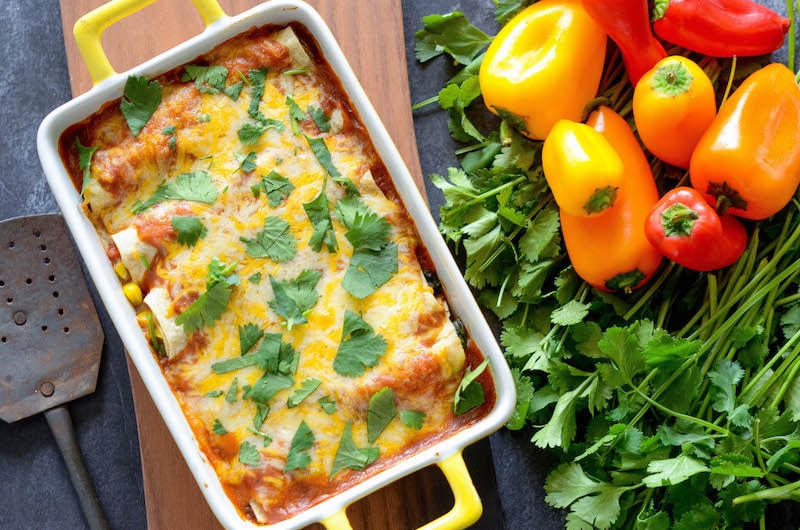 VEGETARIAN ENCHILADAS 
To keep these enchiladas fully vegetarian, make sure you use a vegetable stock versus a chicken stock in the homemade enchilada sauce.
As for the cheesy vegetable filling, I use a variety of vegetables and am always switching it up for new versions.
In the recipe below, you will find bell peppers, corn, onion, black beans and spinach.
However, I have also used zucchini, riced cauliflower and yellow squash.
The options are endless and the flavorful red enchilada sauce recipe works great with all vegetable combinations!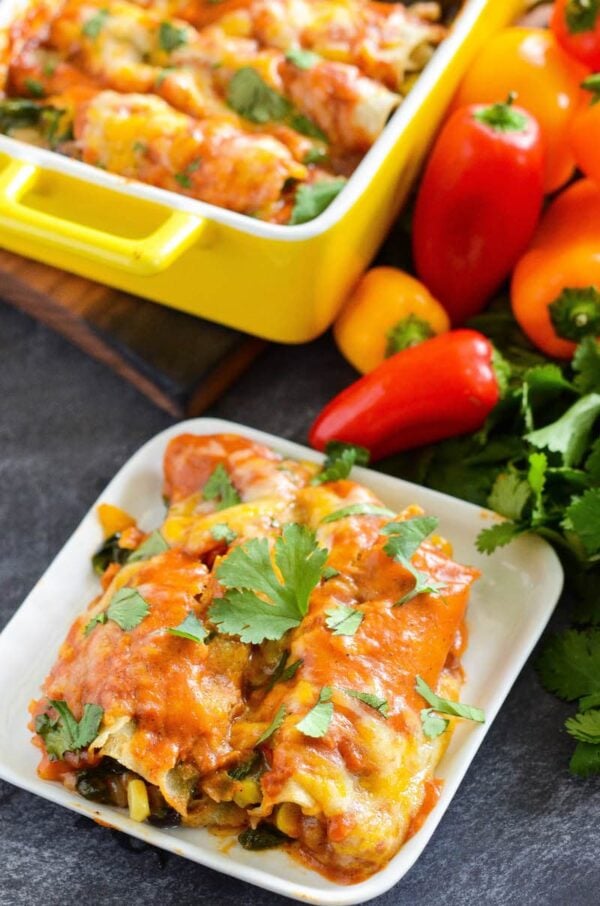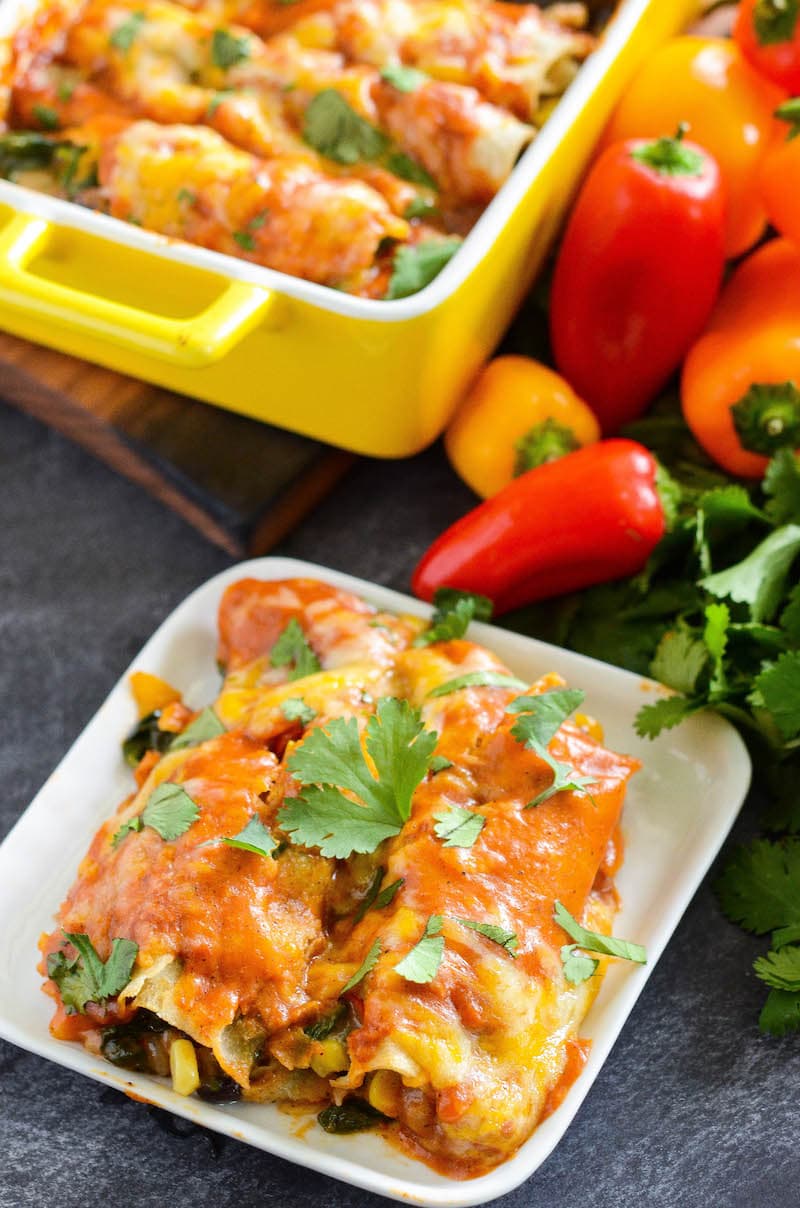 ADOBO SEASONING 
In this recipe, you are going to see that I call for Adobo seasoning.
I know not everyone has this stocked in their pantry or even knows what it is.
Adobo seasoning is a mix of salt, garlic, oregano, black pepper and turmeric. It's a stable in many Spanish homes.
If you don't want to buy an extra seasoning, you can just use extra salt (to taste) in it's place.
However, I totally love Adobo seasoning and always find 100 million ways to use it. Even just to season chicken!
But then again, my husband is 100% Puerto Rican (you can tell by how strong his love for Coquito is), which makes it a must have seasoning in our house!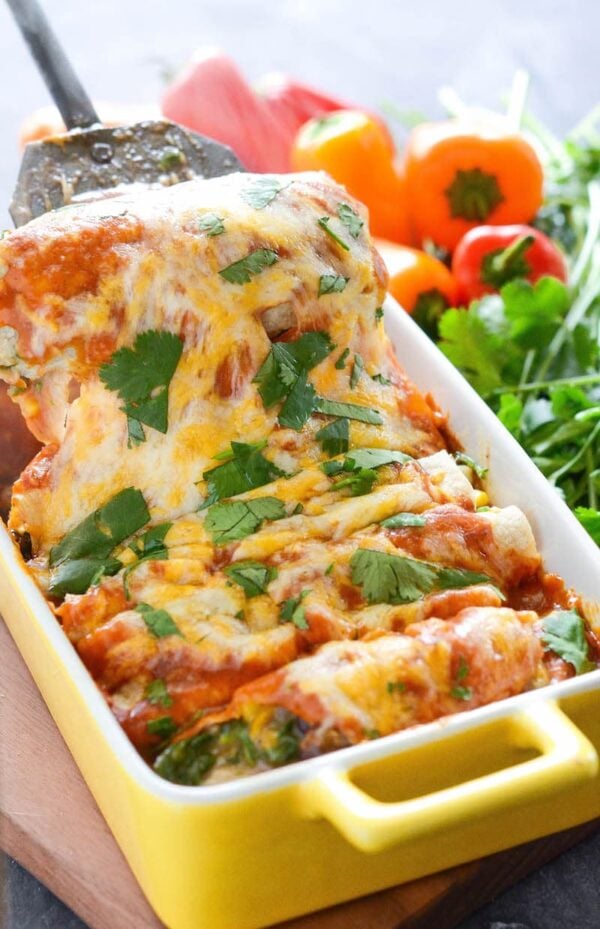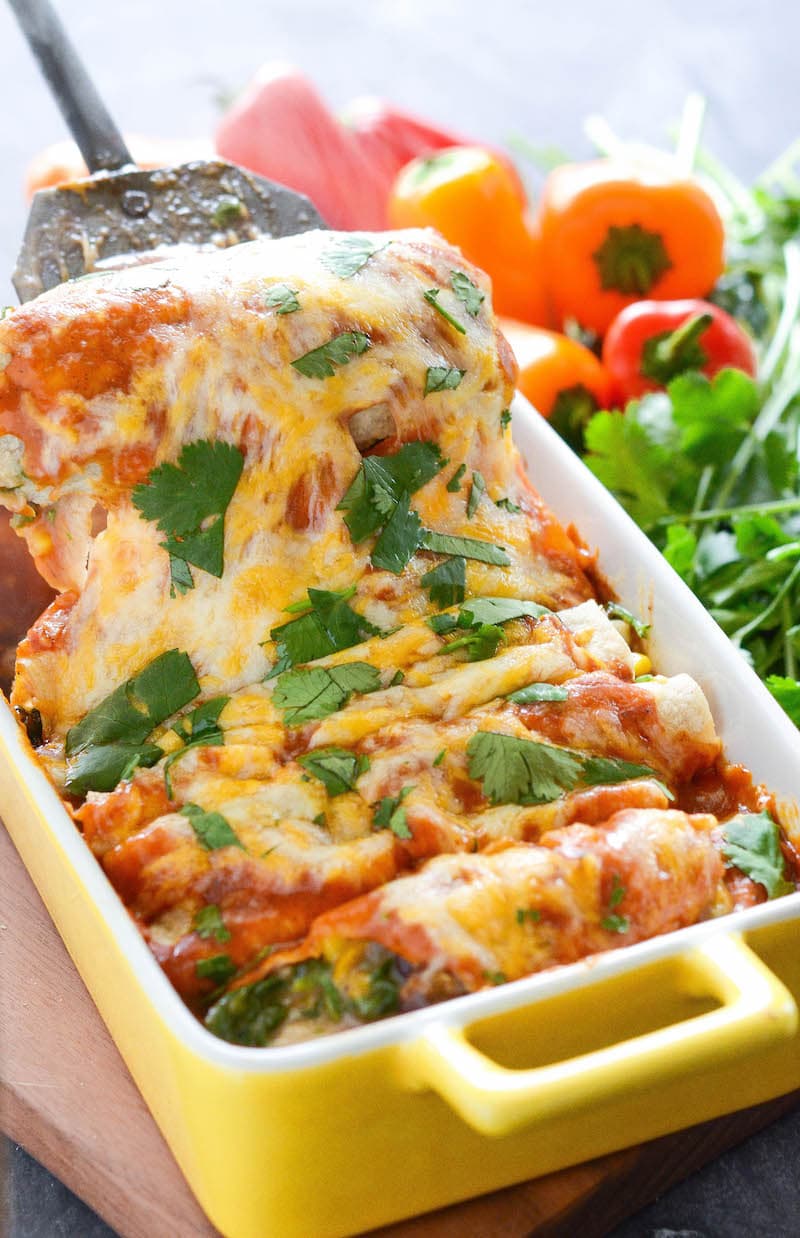 TIPS FOR MAKING HOMEMADE ENCHILADAS:
Make sure that your tortillas are warmed (if using traditional corn tortillas). Otherwise they can crack when you roll them.
To warm your tortillas, wrap them in a slightly damp paper towel and microwave them for about 20 seconds.
Also, prepare your sauce before starting and make sure you add sauce to the bottom of your casserole dish before adding the enchiladas.
You don't want those delicious tortillas to stick to the bottom and have the filling fall out!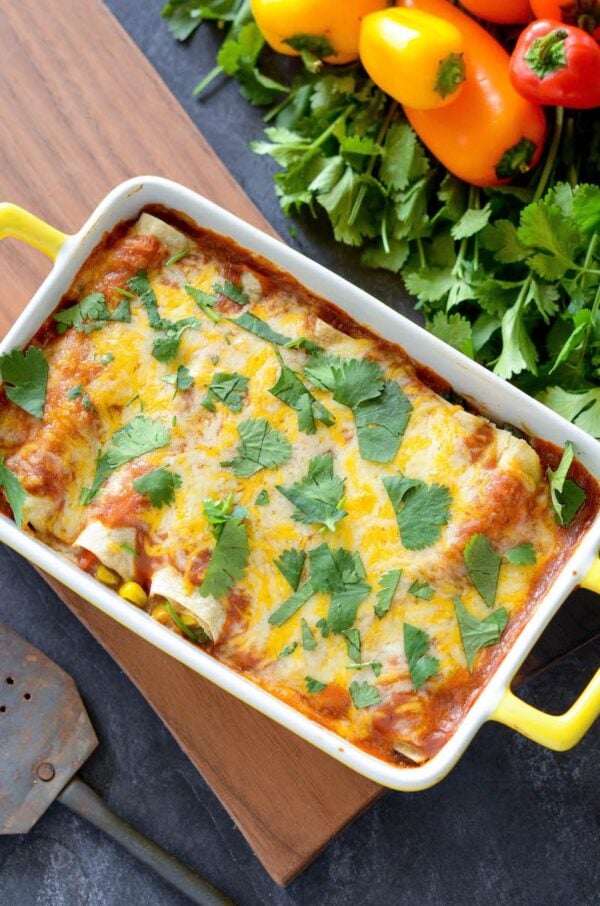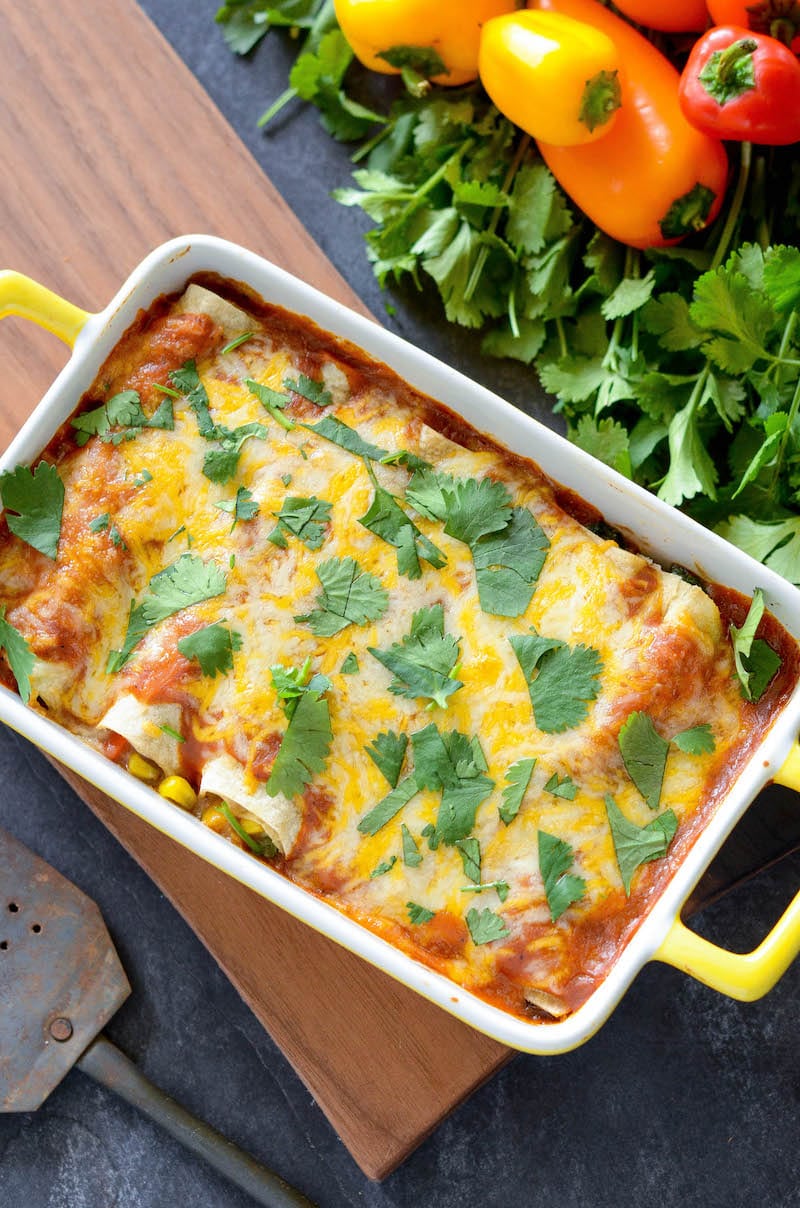 It's hard to believe I have been sharing recipes with all of you since 2008! That feels like forever ago now.
In that time I have brought you a few other homemade enchiladas recipes that you may be interested in.
For a more classic white enchiladas recipe, check out these Salsa Verde Sour Cream Enchiladas. They are truly epic and are one of the most popular recipes on my site!
For a fun twist, you can try these Buffalo Chicken Enchiladas. They are very unique and loaded with flavor.
Long story short, these are truly the best vegetarian enchiladas I have ever made — and I have made many of them!
I can't wait to hear all your reviews of this recipe for the Best Vegetable Enchiladas!